Discover more from Tread by Lee Hedgepeth
Tread is a newsletter devoted to publishing unflinching journalism from the heart of the South.
Over 2,000 subscribers
'Buildings did not kill these people': Alabamians mourn deaths of loved ones inside state prisons
As Gov. Ivey spoke, those pushing for prison reform spoke louder
Tuesday evening, those in Alabama's highest political offices prepared for a speech.
They gathered in the Alabama Capitol, in the old chamber of the House of Representatives. There, Gov. Kay Ivey — with a plaque marking Alabama's secession just over her shoulder — delivered her State of the State address, telling lawmakers, cabinet members, and others in attendance that "Alabama is thriving."
But just outside the Capitol, as the sun began to dip in the Montgomery sky, hundreds of citizens gathered to tell a different story about Alabama. A story, they said, that is much grimmer but much more realistic.
They came to mourn. They came in solidarity. They came to call for action.
And when Gov. Ivey spoke, they spoke louder.
Those gathered on the steps of Alabama's capitol had come to remember those individuals who died while in Alabama prisons.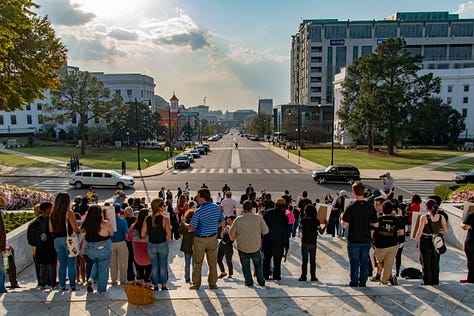 They first gathered on the steps of Alabama's Capitol, most holding pictures of those who died under Alabama's care.
Lauren Faraino, one of the organizers of the event, addressed the crowd. Faraino represented Nathaniel Woods, who the State of Alabama executed in 2020. He was 43.
"In just a few moments, behind us, Gov. Ivey will deliver the State of the State address. They will tell us that they know the prisons are bad, but they're building new ones…They will tell us that they know there are a lot of deaths that are happening in the prisons, but people are old and the prison population is violent — what are they supposed to do? They will tell us that to make our communities safe, people who are in prison should stay there until the last day of their sentence — they will tell us that parole is a privilege, not a right. They will tell us — as our Attorney General Steve Marshall did just yesterday — that prosecutors need additional power to enhance sentencing and lock up children as adults. They will tell us that they are trying their best. We are here today to tell them: a prison sentence should never be a death sentence." — Lauren Faraino, Woods Foundation, March 7, 2023
Soon, Callie Greer of Montgomery rose to lead those gathered in song.
"Precious Lord, take my hand," she sang. "I am tired. I am weak. I am worn."
After, Greer led a procession of those gathered for the vigil from the steps of the Capitol a block away, to the historic Dexter Avenue Memorial Baptist Church where Rev. Martin Luther King, Jr., was once pastor.
There, musicians Lonnie Hollie and Lee Bains performed briefly before Beth Shelburne, an independent investigative journalist, asked family members to share remembrances of their loved ones who'd died in Alabama prisons.
Then, on that sacred street corner in Montgomery, the pain began to surface. One after another, families — sisters and brothers, fathers and mothers, cousins and friends — mourned for those Alabama had forgotten.
Some of them died by suicide. Some died by overdose. Some died at the hands of prison guards, other incarcerated individuals or a combination of both. Some died by executions ordered by the state itself.
The parents of D.L. Smith rose to speak about their child, who died on Oct. 1 at the Donaldson Correctional Facility in Bessemer, Alabama.
Like many of the families who spoke at Tuesday's vigil, the Smith family said they weren't notified about their loved one's death by the state who had allegedly been charged with his care.
"We got a text message that morning [from someone incarcerated in the jail]," Linda Smith, D.L.'s mother, said. "That's how we found out about our son."
His father, a pastor, said the family then had to endure seeing videos of the incident circulating on social media — videos that showed no guards were there to protect his son when the violence took place.
"How would you feel to watch your son be stabbed to death in prison — no guards around nowhere?" D.L.'s father said. "None was there on the scene. So he laid there, and he bled to death in that prison."
Until now, the pastor said, the warden of the facility has continued to refuse to speak with D.L.'s family about what happened.
Smith said he believed there needs to be accountability for those responsible for the deaths of not just his son but all those who have died on the state's watch.
The more the families shared, one after another, the more their grief hung in the humid Montgomery air, filling the evening sky just a block from where Alabama's top politician would soon speak of a "thriving" state.
In her speech, Ivey made only one mention of the state's department of corrections.
"Here in our state, we have and we will always back the blue, and that means standing behind the men and women who serve Alabama as Corrections officers," Ivey said. "That is a tough — and too often thankless calling, not just a job, and we must continue to make increasing their salaries and benefits a priority."
The state government's focus, attendees at the vigil said, should not simply be on improving conditions for guards but on keeping all Alabama citizens safe — including citizens whose life and liberty have been deprived by the legal system.
The grassroots activism in Montgomery on Tuesday isn't the only pressure the state is facing when it comes to prison conditions.
In 2020, the United States Department of Justice filed suit against the State of Alabama, claiming that the state was subjecting citizens incarcerated in its prisons to unconstitutional conditions.
Today, the Justice Department filed suit against the State of Alabama and the Alabama Department of Corrections. The complaint alleges that the conditions at Alabama's prisons for men violate the Constitution because Alabama fails to provide adequate protection from prisoner-on-prisoner violence and prisoner-on-prisoner sexual abuse, fails to provide safe and sanitary conditions, and subjects prisoners to excessive force at the hands of prison staff. — DOJ press release announcing suit against Alabama, 2020
The DOJ's case against Alabama still hasn't gone to trial.
But accountability, those at the vigil said Tuesday, is what Alabama needs.
And, gathered shoulder to shoulder outside Dexter Avenue, as Gov. Ivey began her speech, that's what they prayed for.
"Loose your angels, Lord, to go into the department of corruption, Lord, and turn the situation around right now," the pastor prayed as the crowd cheered him on. "We'll be forever careful to give you all recognition. Not the governor. Not Steve Marshall. Not these other legislators. Because the only ability they have is the ability you allow them to have."
To see and share a full photo gallery of images from the rally, check out Tread's Facebook page at this link.
Tread by Lee Hedgepeth is a reader-supported publication. To receive new posts and support my work, consider becoming a free or paid subscriber.